September enewsletter
Club Tournament
The finals took place on Sunday 9th September. Thanks to all of you who came up to support the day and watch some exciting tennis. The results were:
Men's Singles – Matt Hollis beat Chris Hollis 6-3 6-2
Ladies' Singles – Sandra Ayres beat Ruby Hollis 7-5 4-6 8-6
Men's Doubles – Chris & Matt Hollis beat Brad & Ross Armorgie 6-4 6-4
Ladies' Doubles – Daphne Lunnon & Fiona Pye beat Sandra Ayres & Ruby Hollis 6-1 6-4
Mixed Doubles – John Bitten & Ruby Hollis beat Chris Hollis & Daphne Lunnon 3-6 6-2 6-3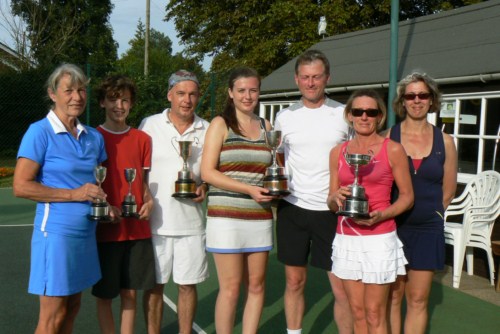 Hospital Cup
This year's finals will take place at Stebbing Tennis Club this Saturday (22nd September). Even though Stansted do not have any representatives in the finals, your support on the day would be greatly appreciated.
Essex Small Club League latest results
Ladies' Premier
Stansted    10 – 6    Thaxted
Stansted    12 – 4    Pleshey
Dunmow     2 – 14    Stansted
Mixed II
Castle Hill    8 – 8    Stansted
Henham       7 – 9    Stansted
Wiby Tournament
10 players took part in the annual Wilby tournament, which was held on Sunday 19th August. The final was won by Matt Hollis and Daphne Lunnon who defeated Ed Wombwell and Jan Hollis 6-3 in the final.
Dates for your diary
Saturday 22nd September – Hospital Cup Finals Day at Stebbing Tennis Club
Sunday 23rd September (12.45pm start) – Clower Girls' Singles Tournament  (Cancelled).
Sunday 30th September (12.45pm start) – Clower Boy's Singles
Sunday 7th October (9.30am start) – Boyd Adult Doubles Tournament
Sunday 14th October (12.45pm start) – Clower Girl's Doubles Tournament
Website
Why not go to the "Club Session" section of the website and indicate which Club sessions you are planning to attend.
If you wish to contribute to the next monthly enewsletter, please let me have your contribution by 15th October.
Best wishes,
Chris