Latest News & Results
Stansted Tennis Club is represented at St Mary's church Stansted for all their forthcoming Xmas activities! Ginnette Basten did all the donkey work, with some help from Ash Huggonson, making superb rackets and ball decks!!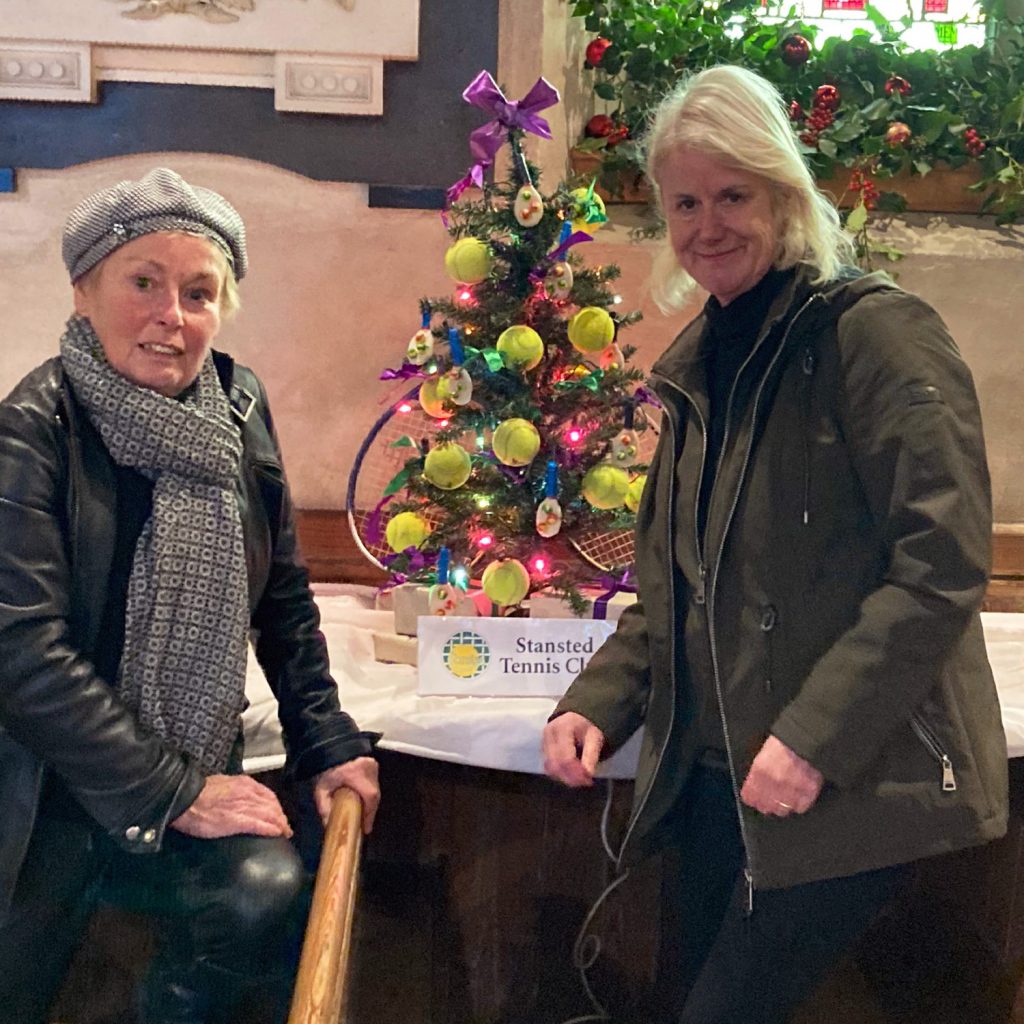 The final thee trophies from the club championship, played back in September, were finally presented to the winners.
Sandra Ayres and John Stone picked up the mixed doubles trophy, and Diane Brown and Daphne Lunnon collected the Ladies' doubles trophy.  Andy Constantinou was presented with the men's plate medal.
Congratulations to all the winners. They will look great on your mantlepiece.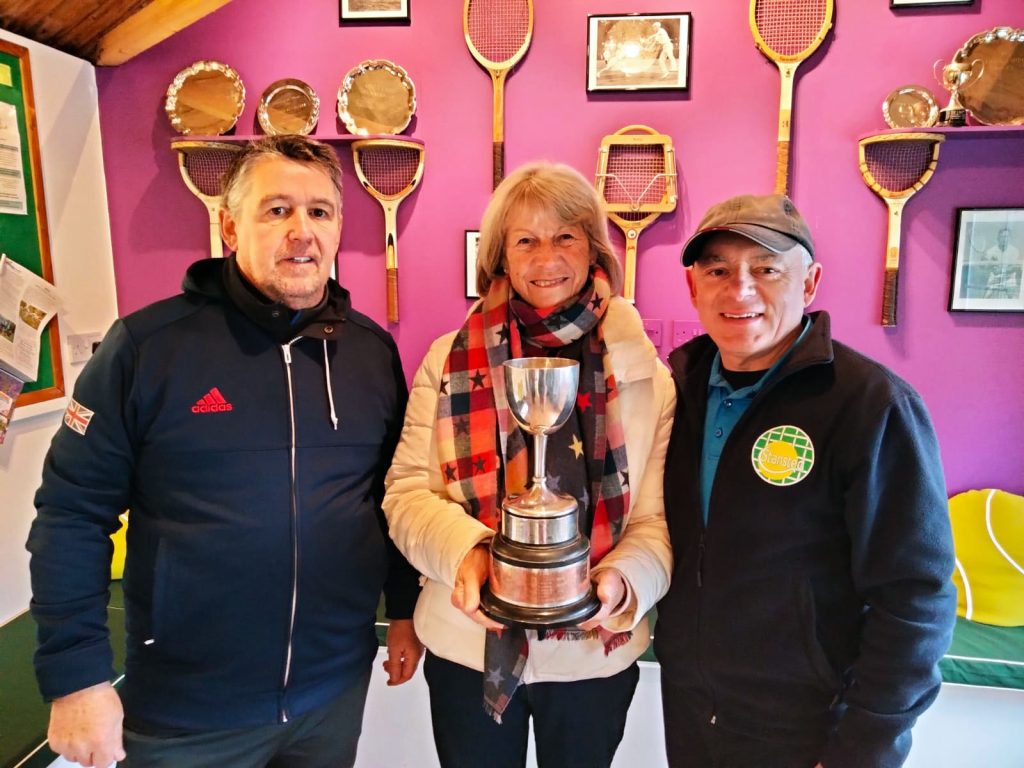 In October 2023 one of our members, Sandra Ayres, travelled to Mallorca to compete in the ITF Individual tennis World Championship competition in the over 75s category.
Sandra succeeded in getting through to the last 16 only to be beaten narrowly by Andree Teische from Germany 7-5, 7-5 an excellent achievement.
Well done Sandra!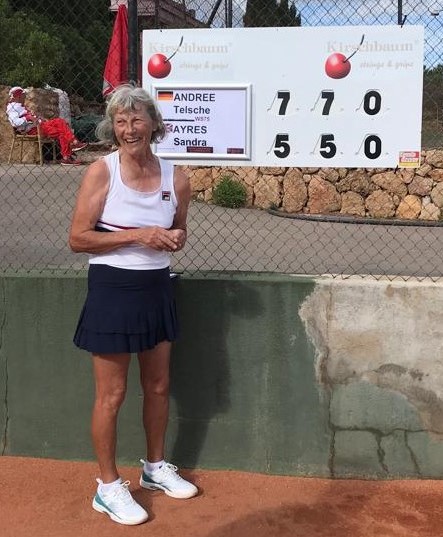 The summer 2023 league has now been completed. You can find all of the results for the Stansted teams that entered, and the final league positions, here Final Results.
Well done to all the members who volunteered their time to play for the club.
The Winter 2023/24 season will be starting soon, so keep a look out for how our club is doing.
As you may remember, rain curtailed some of the matches on the Club Championship day in mid-September. These have now been completed and here are the results.
Mixed doubles and Men's singles plate results 2023
The Mixed doubles final was played on Sunday 24 September 2023, with Sandra Ayres and John Stone beating Daphne Lunnon and Michael Wilde 6-1, 6-0.
The Men's singles plate final was played on Saturday 30 September 2023, with Andy Constantinou beating Tom Baker in an epic three setter, 6-4, 5-7, 6-2.
Congratulations to all the winners!
The club have recently been told by Jan Hollis of the very sad news that Richard Mott died peacefully on the 17th October 2023, in the Nursing Home in Sidmouth that he went to after he had been in Exeter Hospital.
Whilst he has not been recently active at the club, many of you will remember him with great fondness and respect.
As well as being a Trustee for the club for many years, Stansted Tennis Club would not be as it is today without the numerous dedicated members like Richard who devoted so much time & energy to the Club for an enormous number of years.
Our thoughts go out to his close friends and family at this difficult time.
The Ladies Doubles Club Championship finals was resumed on 17 October 2023. Daphne Lunnon and Diane Brown were 4-3 up in the final set when the match resumed a month after it was started. It took just two games for Daphne and Diane to win the match defeating Carol Cook and Mel Smyth 6-4, 5-7, 6-3. Congratulations to all.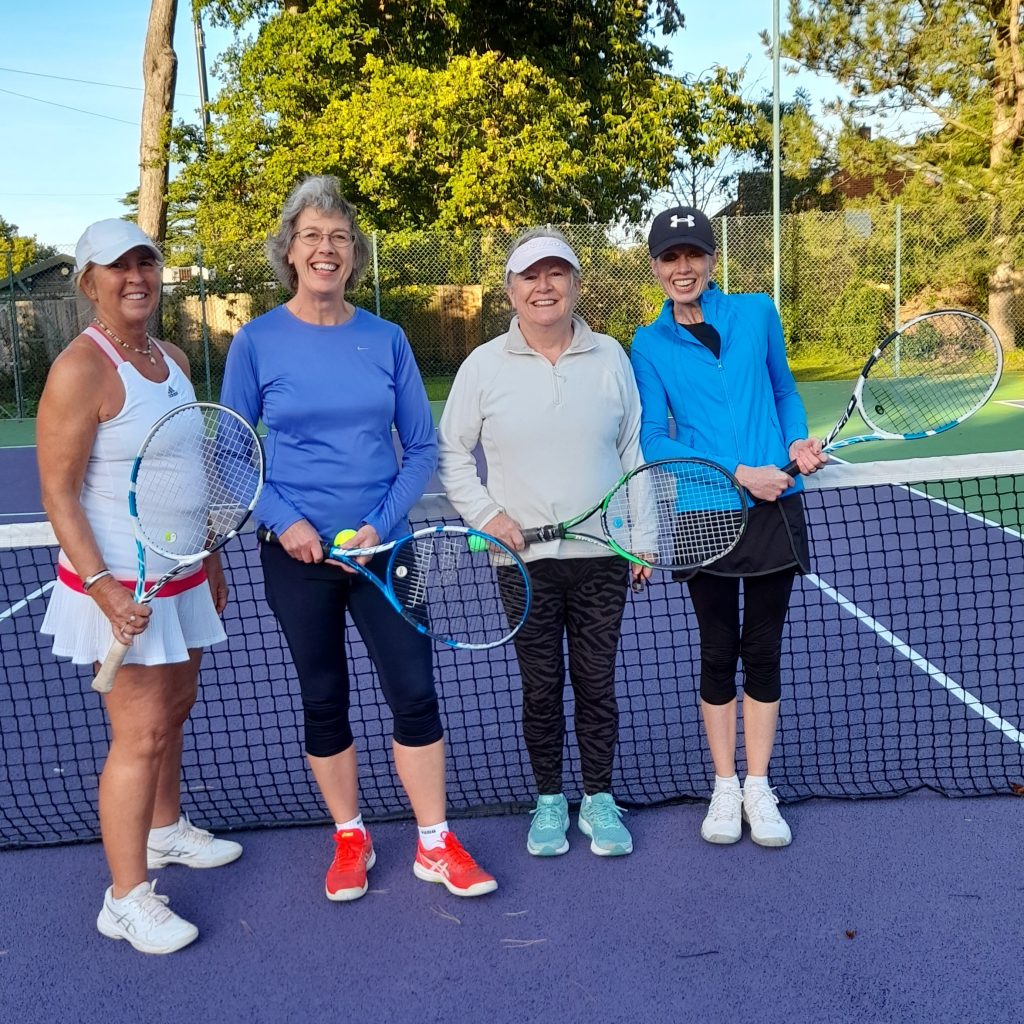 It is with great sadness that we let everyone know that Ollie Toms, club coach, has passed away.
Ollie underwent an emergency heart related operation on Sunday 1st October. The initial information was that that the operation went well, however, we were informed that his situation had deteriorated. It is now with great sadness that we have to tell you that Ollie lost his fight and passed away at 11.20am on Friday 6th October.
We know for many people who knew and loved Ollie, this will be very shocking and sad beyond comprehension. Ollie was by any measure an extraordinary person. He dedicated himself to helping people and especially the young to thrive in a sport which he so loved. He had a very special ability to encourage and nurture people, regardless of their abilities. He was someone who put you at ease immediately and who you thought of as a friend from the outset.
Four years ago, there were only a handful of juniors being coached at our club, now there are over 85. This is down to Ollie as a testament to his determination, kindness and love of people. His passion for tennis, passed on to so many, will be his legacy.
He will be hugely missed.
Our thoughts go out to his family at this difficult time.
The Kitson trophy was played for on Sunday with 16 participants. All the matches were extremely close.
A great day was had by all. Here are the results:-
MAIN KITSON TROPHY WINNERS:
WINNERS: SUE ARMORGIE & MARK HARRIS SCORE: 6-3
RUNNERS UP: DINA MCDONALD & DAVID MURFITT
CONSOLATION MATCH FINALS
WINNERS: RYAN ACKERMAN & CATHERINE GIBBY SCORE: 4-3
RUNNERS UP: MICHAEL WILDE & ANNA SMITH
Congratulations to all who took part.