June 2013 enewsletter
Dear members,
Club Tournament
The draws for this year's Club Tournament are now up on the Clubhouse notice-board. If you have entered this year's tournament, please try to make contact with your opponent(s) as soon as possible to arrange your matches.
Next Committee meeting
This will take place on Monday 15th July at 8pm at Jamie Alder's house.
Pearce Adult Doubles Tournament
10 players took part in this doubles tournament. In the semi finals Rick Lim and Sue Armorgie beat John Nichol and Jan Hollis 6-3. In the other semi, Chris Hollis and Lorraine Cowie beat Daphne Lunnon and Lisa King 6-5. The final was another close-fought short set with Chris and Lorraine winning 6-5.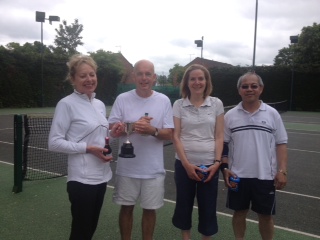 Next Ladies' Night
This will be from 7pm on Monday 8th July. All lady members welcome!
President's Cup
The rearranged date for The President's Cup is Sunday 30th June – 9.30am for 10am start. Please either email me or put your name up on the noticeboard in the Clubhouse if you would like to play.
Essex Small Clubs League
Quite a few matches have now been played in the summer Essex Small Clubs League. Here are the latest results:
Mixed Premier
Stebbing 10 – 6 Stansted
Stansted 16 – 0 Henham
Ladies I
Stansted 0 – 16 Dunmow
Stansted 1 – 15 Clavering
Mixed 2
Stansted 6 – 10 Harlow
Stansted 10 – 6 Pleshey
Stebbing 14 – 2 Stansted
Mens 2
Stansted 9 – 7 Henham
Best wishes,
Chris