Latest News & Results
We have just received the final tables for the Summer season of the Essex Small Clubs Tennis Leagues and are displayed below.
Congratulations to both our Ladies Premier & Ladies 3 teams who won their divisions.
The winter leagues are underway and if you are interested in joining in and being part of the teams please get in contact and we'll put you in touch with the relevant captains.
You can read the latest newsletter here
The Jim Kitson Trophy, which is a mixed doubles tournament, took place on Sunday 10 October. It was a really enjoyable day with some great tennis and a fish and chip supper to finish! Many thanks to all those who participated, to Gail Hogg for organising and to the amazing weather!
The winners of the competition were Daphne Lunnon and Adrian Olver who beat Marta Hensall and Ash Patel 6-3. The consolation prize was won 4-1 by Mike and Val Ashwood against Gerred Gilronan and Sue Armogie.
Spectators and players basked in the sun for the finals of Stansted Tennis Club's annual tournament. Five events were contested over the summer on a knockout basis, culminating in Finals' Day on Sunday 12 September. Maybe inspired by Emma Raducanu's amazing performance at the US Open the night before, play was entertaining and, at times, exciting to watch.
Helped by some well-timed net cords, Daphne Lunnon retained the Ladies' Singles trophy with a close three setter, featuring some very long rallies, over Marta Hensall. Jon Budd claimed victory over Simon Fox in the Men's Singles event, again in a closely contested three setter, after Simon turned round a 5-2 deficit in the second set to take the set 7-5. Jon then got the better of Simon in the third set, to seal the victory.


In the Men's Doubles event, Jon Budd partnered his erstwhile opponent, Simon Fox, to convincingly defeat new pairing of Adrian Olver and Michael Wilde 6-1, 6-1. Meanwhile, Daphne Lunnon was back on court defending the Ladies' Doubles trophy with her partner, Diane Brown. Things started off promisingly enough with Daphne and Diane winning the first set 6-2, only to lose the next two sets to worthy winners Carol Cook and Fiona Pye.
Michael Wilde and Adrian Olver were on opposite sides of the net for the Mixed Doubles final, with Michael partnering Daphne Lunnon and Adrian partnering Carol Cook. Adrian's dominance at the net gave him and Carol an early lead but Michael's tactically angled shots secured victory for him and Daphne in a very close two set match.
Plate events were held in some of the competitions this year for the first time. In the Ladies' Singles Plate Fiona Kelly's consistent play saw her overcome Catherine Gibby in two straight sets. Mark Harris had a walkover to win the Men's Singles Plate. Simon Fox was on court for a third time in the day, partnering Catherine Gibby in the Mixed Doubles Plate final. They lost the first set to husband-and-wife combination of Jamie and Gail Hogg, then won the next two sets in a hard-fought contest.
Full results:
Ladies' Singles: Daphne Lunnon beat Marta Hensall 3-6, 6-3, 6-0
Men's Singles: Jon Budd beat Simon Fox 6-2, 5-7, 6-1
Ladies Doubles: Carol Cook/Fiona Pye beat Diane Brown/Daphne Lunnon 2-6, 6-3, 6-3
Men's Doubles: Jon Budd/Simon Fox beat Adrian Olver/Michael Wilde 6-1, 6-1
Mixed Doubles: Daphne Lunnon/Michael Wilde beat Carol Cook/Adrian Olver 6-4, 7-6
Ladies' Singles Plate: Fiona Kelly beat Catherine Gibby 6-2, 6-2
Men's Singles Plate: Mark Harris (walk over)
Mixed Doubles Plate: Catherine Gibby/Simon Fox beat Gail Hogg/Jamie Hogg 4-6, 6-1, 6-1
Trophies and medals were presented at the close of proceedings, along with the Roger Loveday trophy for most improved player. This was awarded to a delighted Cathy Brenner.
Here is a selection of photos from the day.
Please welcome our newest member to the club!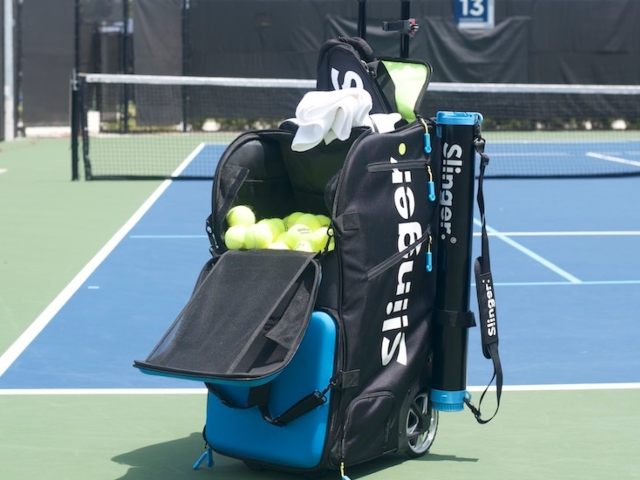 Following a number of requests, we are excited to let you know that we have purchased a 'Slinger' Tennis Ball Launcher (Ball Machine). You may have already seen one of our members using one of these. This Ball Machine is recommended by the LTA, it is lightweight, versatile, portable and can be set up anywhere in a few minutes. It is really easy to use and great fun!
The intention is that this will be available for members to use. Booking will be through the Clubspark booking system. It is worth noting that an hour spent using the Ball Machine will be tiring, so consider sharing the session and cost with others.
The Ball Machine can be used in many ways and the link to YouTube below contains some very useful videos that show different ways it can be used on court to help perfect strokes, improve your game whilst having a good workout!
https://www.youtube.com/channel/UCT7cZF6SfoTDgWk8x9CVfcA

The Ball Machine comes complete with an oscillator for varying ball direction, a telescopic ball collector tube, remote control and phone camera holder. Around 72 balls will be provided.
An induction on use will be provided prior to first booking. These will be held after club sessions depending on demand. The Ball Machine is available for use now. Please contact a member of the Committee or Coach.
The machine can be booked through ClubSpark as you would book a court and you will find full instructions on how to use the machine on there as well.
On Sunday 22 August, 16 ladies took part in the last one day, social tournament of the year. Despite the unpredictable weather it was a great afternoon of tennis, brilliantly organised once more by Debbie Lane. The eventual winners, after a thrilling match, were Diane Brown and Marta Henshall who beat Daphne Lunnon and Sandra Ayres 6-4. The consolation round was won by Gail Hogg and Sue Simpson, beating Dina McDonald and Fiona Kelly 4-3.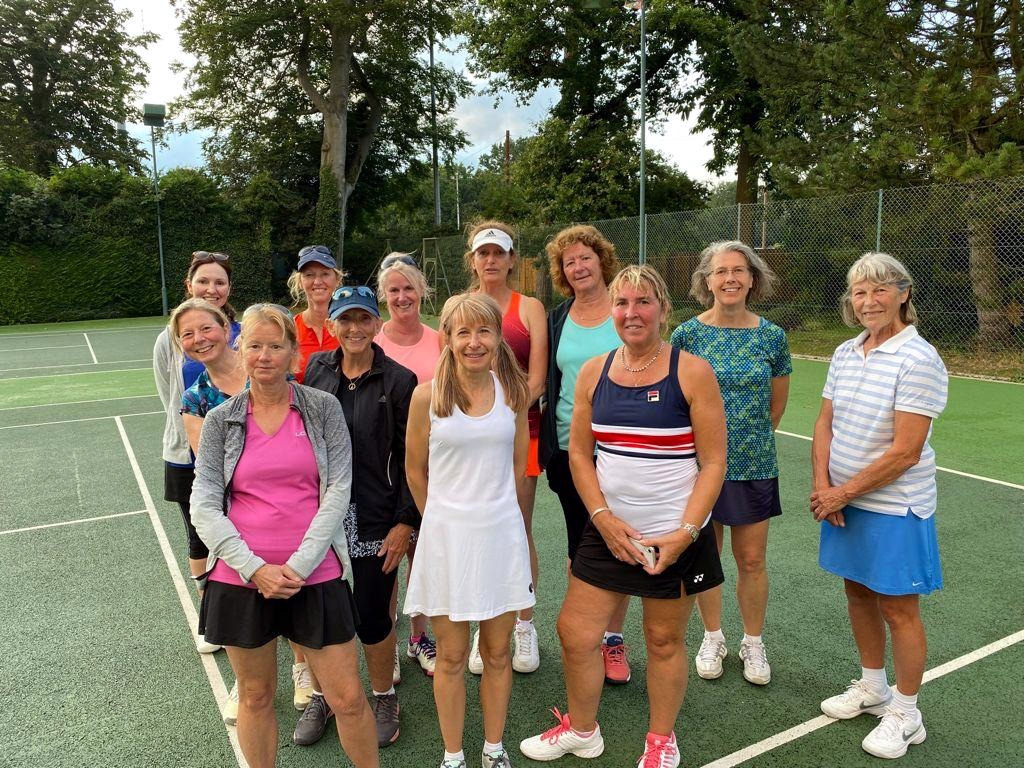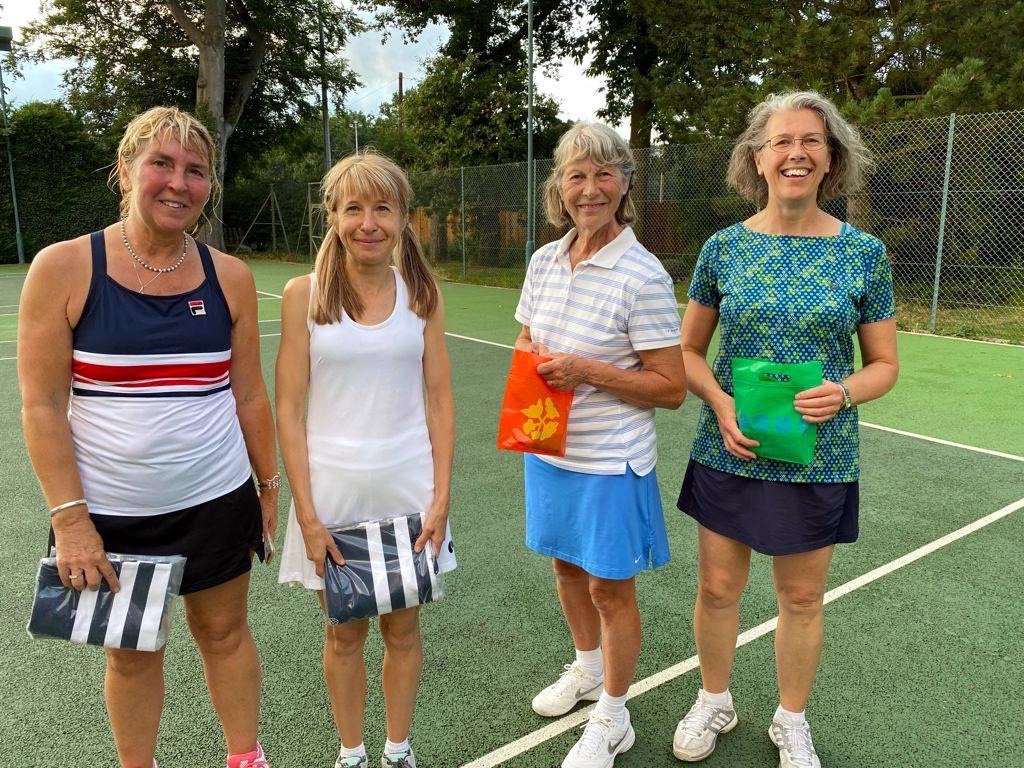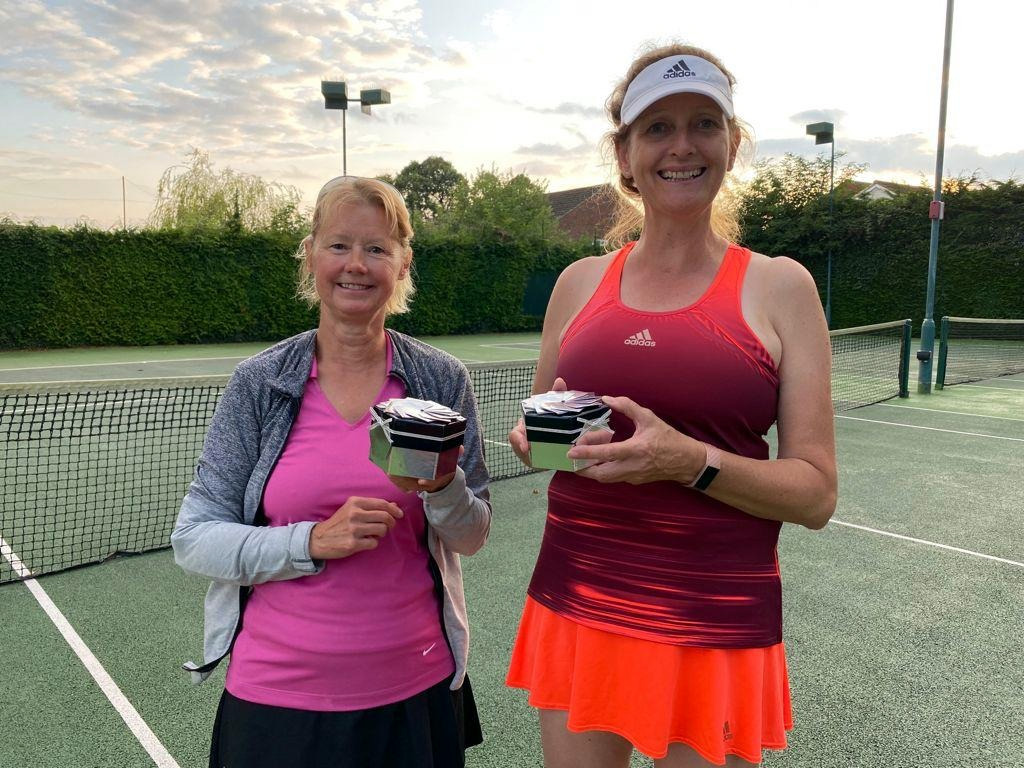 Due to popular demand there will be a second monthly ladies' club night on the fourth Monday of every month. This will start on Monday 23 August and the session will run from 7-10pm. The ladies' night on the second Monday will also revert back to running from 7-10pm, not 6.30.
We are also introducing a men's night which will be held on the first Monday of every month from 7-10pm, starting from 2 August. All are welcome!
Don't forget that there is also a junior club session every Friday from 4.30-6pm. No club balls will be available for this session unfortunately, so please remember to take balls with you.
Congratulations to Sandra Ayres and Daphne Lunnon who won a very close final at the President's Cup on Saturday 26 June, winning 6-4 against Jon Budd and Val Ashwood. Marta Hensall and David Fletcher won the consolation round, beating Michael Wilde and Cathy Brenner 4-1. It was a really enjoyable day, thanks to everyone who played and of course special thanks to Debbie Lane for organising.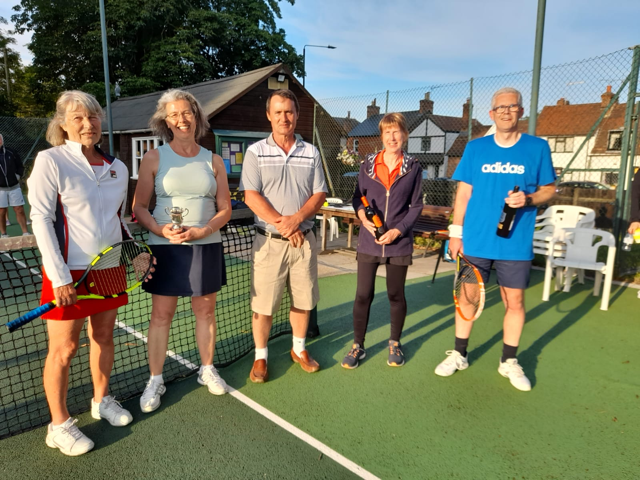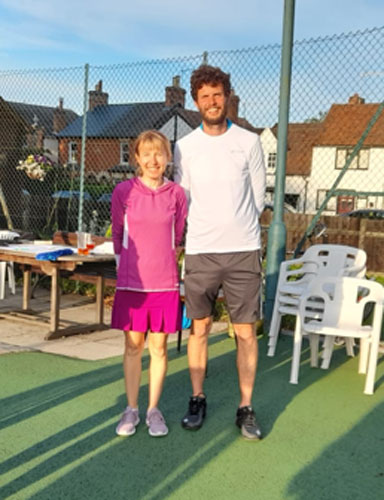 Are you looking for ideas on how to entertain your children/grandchildren this summer?
Ollie Toms the tennis coach has the answer, well for some of the time anyway! Please see the attached flyer for details of his summer camps at Stansted and Newport Tennis Clubs and contact him at ollie@olliestennis.co.uk or call Ollie on 07917 652014 for more information.
This fun tournament was played on Friday 11 June in glorious weather, with 16 players taking part. The eventual winners of the bottles of fizz were Carol Cook and Sue Simpson, who beat Diane Brown and Gail Hogg 6-4 in a thrilling match.
The consolation prize of chocolates went to Debbie Lane and Dina McDonald with a score of 4-3 against Caroline Crossley and Cathy Brenner, after a closely fought match. Thanks to Debbie for once again organising such a great day.