Tournaments & Diary Dates
Latest Tournament News.
The Hospital Cup
The tournament is an inter-club knock out tournament, which dates back to the 1940s. All proceeds from the Hospital Cup Tournament go to The League of Friends of Saffron Walden Community Hospital.
There are men's and ladies' singles, men's and ladies' doubles and mixed events, with a finals day held on the second Saturday in September each year.
For details of this year's tournament, contact Stansted's Hospital Cup representatives, Fiona Pye (fionapye@btinternet.com) and Lisa King (stirling.lisa08@gmail.com).
Initially the Hospital Cup tournament was set up to raise funds for the Saffron Walden & District Charitable Welfare Association. This association was founded as a consequence of the absorbing of the town's voluntary General Hospital into the newly formed National Health Service in 1948.
In 2008 this association was wound up and the League of Friends became the focus for fundraising for the Hospital Cup. Avocet Ward at the Community Hospital in Saffron Walden had just been built, and the League of Friends has since been heavily involved in the fundraising for the development and equipping of this facility.
This rehabilitation unit is a facility within the hospital that provides services such as physiotherapy and occupational therapy. These services enhance the patients' stay within the hospital and potentially enable the patient to return home earlier than they would normally have done.
The new facilities are suitable to provide patients with intensive therapy and with dedicated facilities such as a bathroom, kitchen, etc. which assist patients in coping with daily life before they return home.
The League of Friends continue to support this new facility and the Community Hospital in general. All monies raised by this tournament will therefore benefit all future patients.
The Pearce-Frodo Cup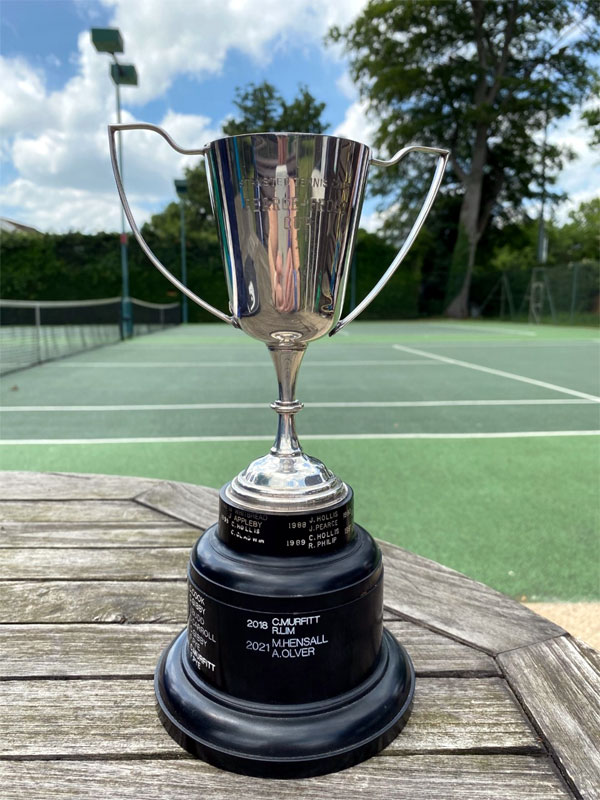 The Pearce-Frodo Cup was presented to the Club by Jack and Diana Pearce. They were two charming, stalwart, keen and loyal members of the club for many years. They had two daughters, Jenny and Jill.
Present members may not know that Frodo was their beautiful golden retriever who regarded himself as an honorary member. He was impeccably behaved and sat or lay on the court watching us play. He never chased balls and everybody loved him.
They moved to a beautiful barn in Shaftesbury in Dorset where Diana drove a pony and trap and Frodo was eventually succeeded by Tania and Chippy.

Jack and Diana belonged to two tennis clubs and a badminton club. Several members of Stansted Tennis Club were invited there for a weekend, including Janet Hollis and Alan Bulley (Fiona Kelly's dad!) and we were entertained royally. Wonderful tournaments were played at the two clubs and there was a lot of eating and drinking!
Sadly Jack and Diana have both passed away now. Jack died on the badminton court in 1994 and Diana died in 1999, but our memories of them live on through this Cup.